Wet weather wedding photography
As a wedding photographer an often asked question from clients is what happens if it rains on my wedding day.  Here we are mid June and the weather has been rather wet again with flash floods in parts of the country, so it seems a good time to talk about wet weather weddings. Maybe I've been lucky as in 16 years (roughly 800 weddings) of being a wedding photographer it has been rare for it to rain all day, more often it is showers mixed with dry periods, but if it does rain all day what is the best way to still enjoy your wet weather wedding? Here are my top tips for wet weather wedding photography.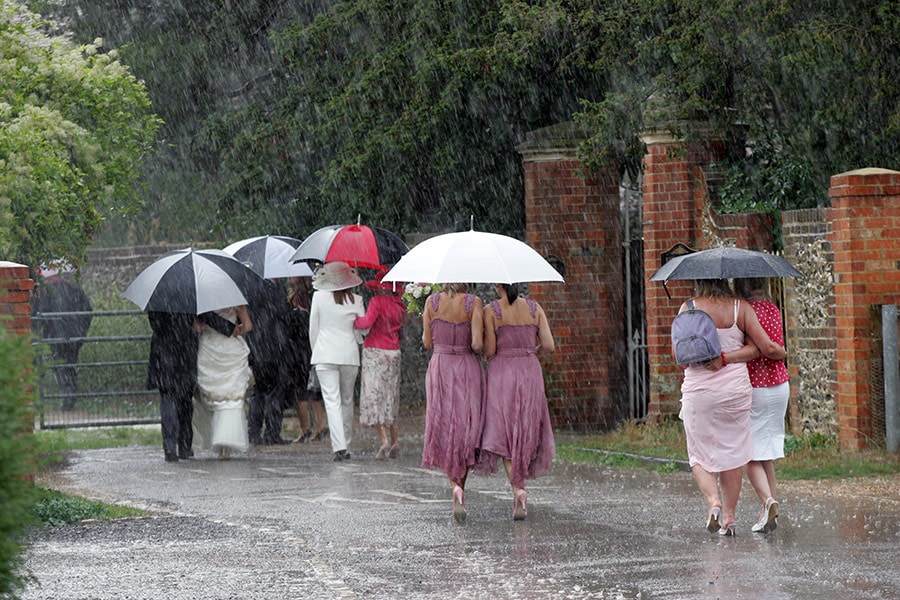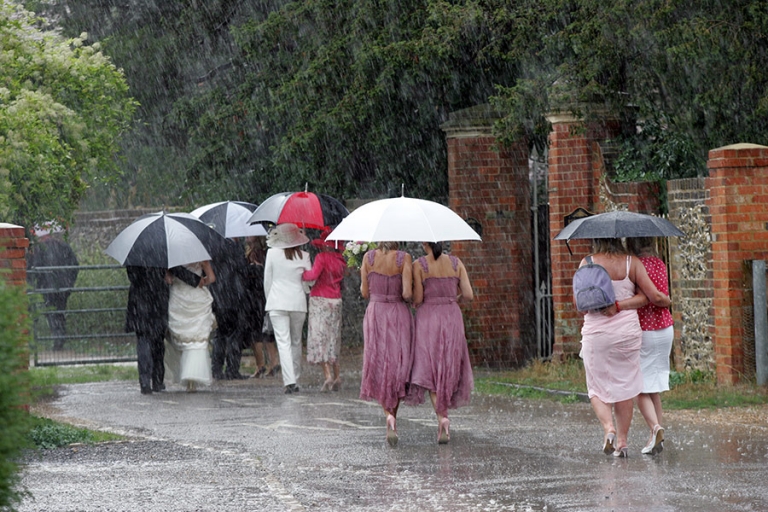 Keep smiling
Accept the weather, nobody can change it. There is little point in worrying about bad weather, instead concentrate on enjoying what the wedding is really about. Some of the best weddings I have been to have been in awful weather. If the forecast is looking wet for your wedding day it's advisable to think about how you are going to stay warm and dry. Make sure you enjoy the day as it goes by so quickly.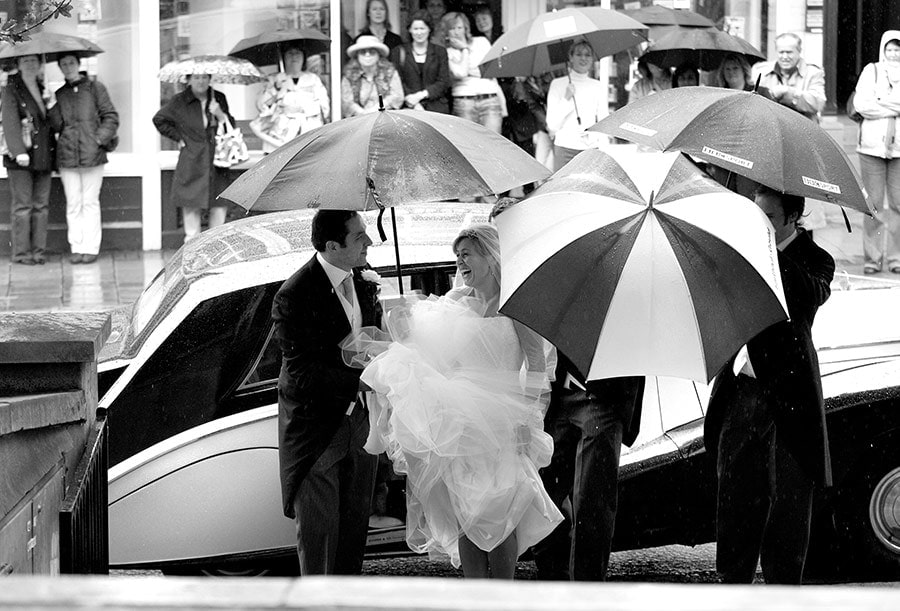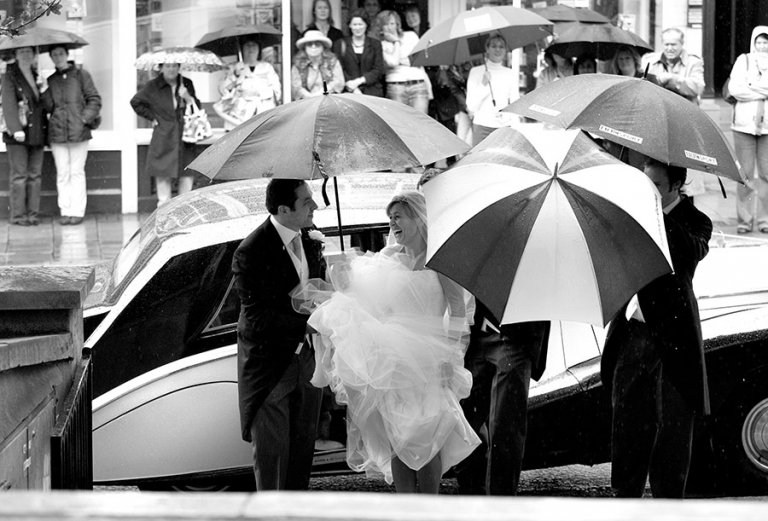 Be prepared
Make sure you have a supply of white or clear brollies for the bridal party and wellies too if your venue is likely to be wet and muddy. You have to make the most of the day no matter what the weather does and accept you have no control over it. One of my most memorable wet weddings was about 7 years ago, I had three weddings in a row and the rain started on and off on the first wedding which was on the Friday, the second wedding was a little wetter and by the time of the third wedding on the Sunday we had a lot of flooding. The bride called me on the morning of the wedding to say the marquee had flooded the night before and although the flood had now gone the ground was very wet. The couple had purchased every pair of Wellington boots they could find in the shops to try and keep guests dry. The bride had planned to walk from the church to the marquee in her parents garden, along with a New Orleans style band. As we left church the rain was still coming down, the couple decided to go for it anyway and I got some fantastic photographs of them.
Of course nobody wishes for rain on their wedding day, but with a little preparation rain is not the disaster it first appears.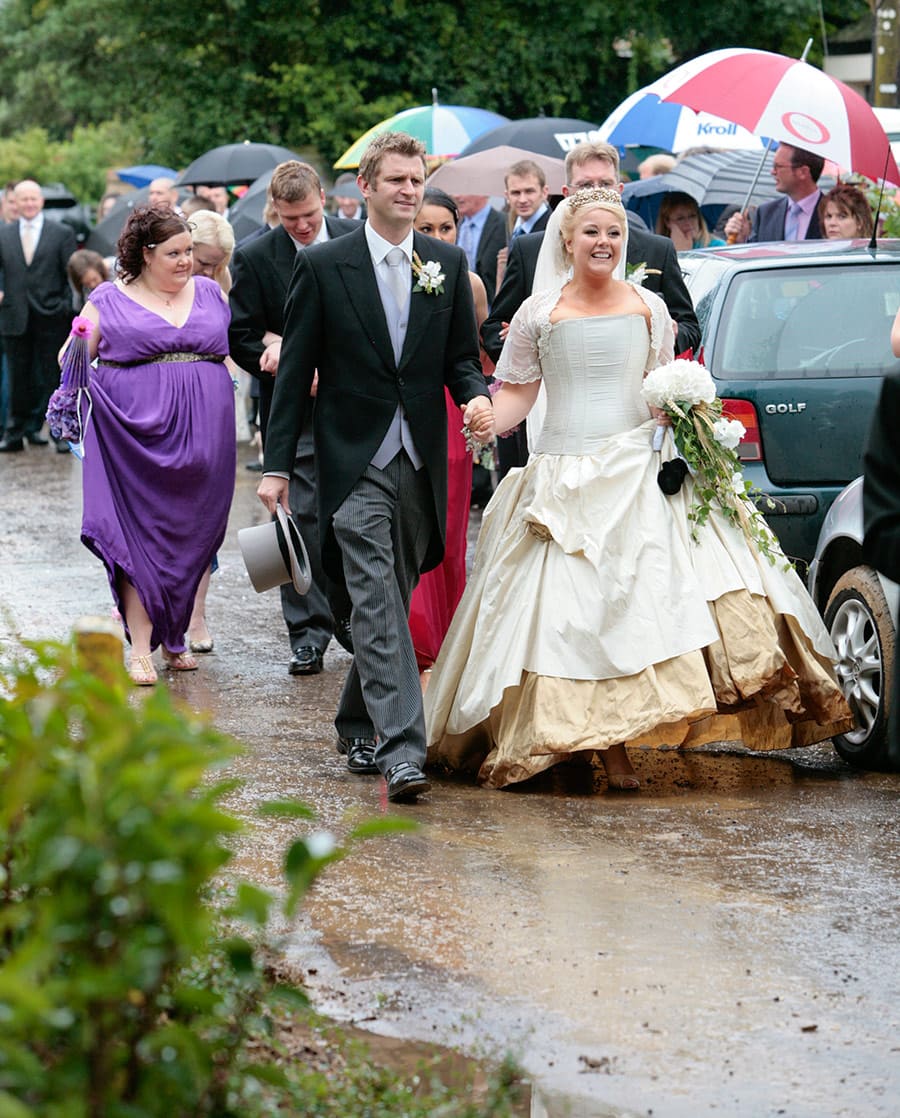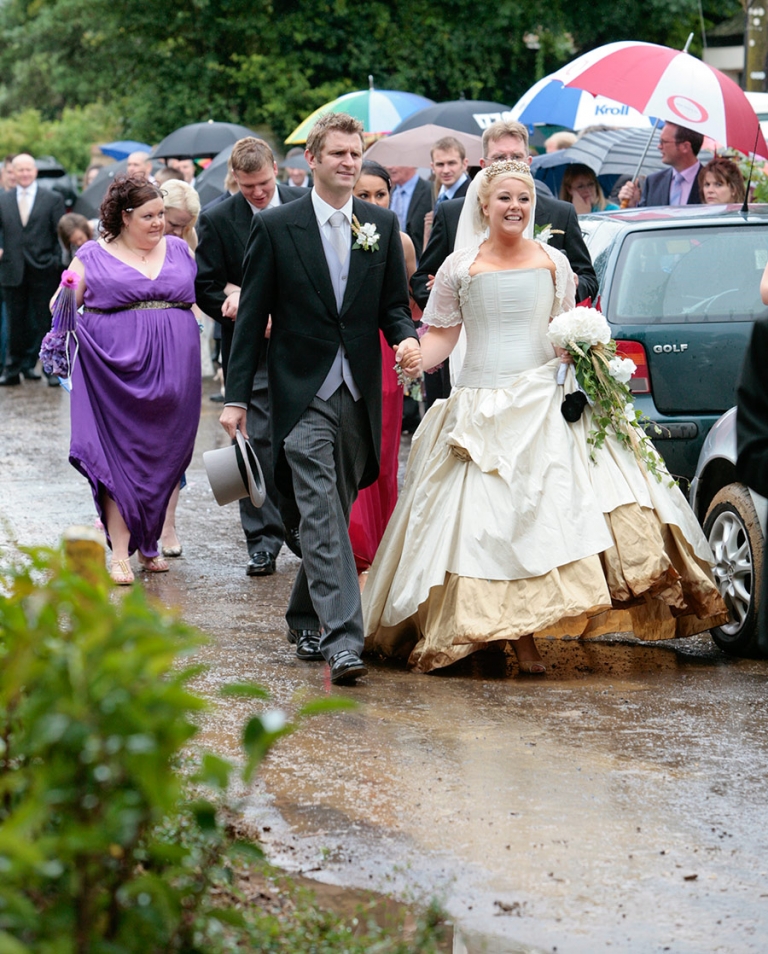 Think about the transport
Make sure your chosen form of transport has a roof or some means of keeping out the rain, classic open top cars look beautiful but arriving at the church soaking wet is not such a good look.
At a recent wedding the couple planned to use an open top boat as the wedding transport from the church to the reception in a meadow next to the river. By the time they left church the rain has set in, I waited at the reception thinking they would probably cancel the boat and arrive by car, however they did arrive in the boat with umbrella's to keep off the rain, this made one of my favourite wedding photographs.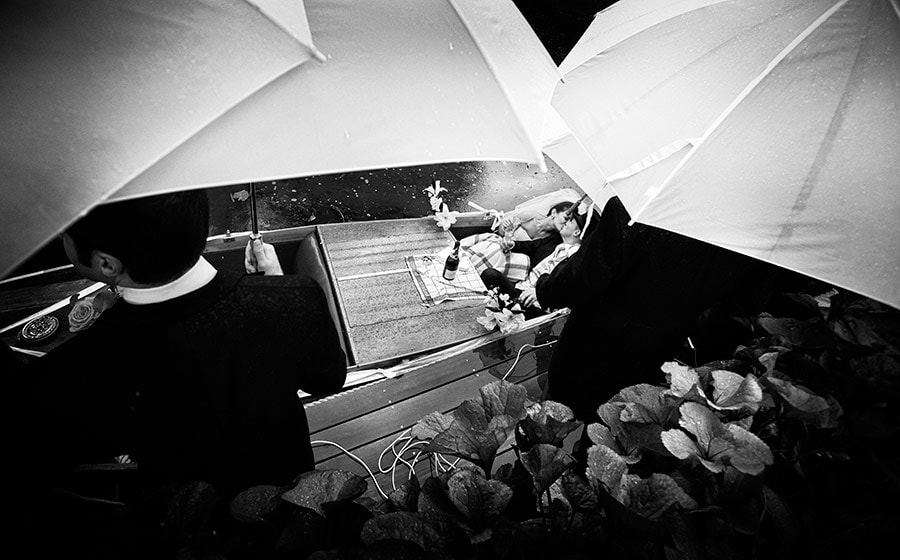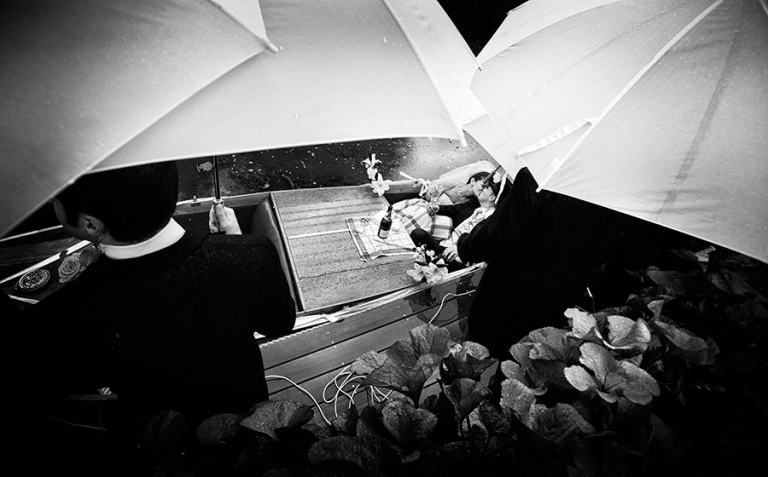 Don't worry about the photography
Some of my signature images have come about due to bad weather, so you can rest assured I will come up with amazing photographs no matter what the weather sends your way. My best advice is you do not stress about the weather and get on with enjoying your day and leave the rainy day wedding photography to the professional photographer.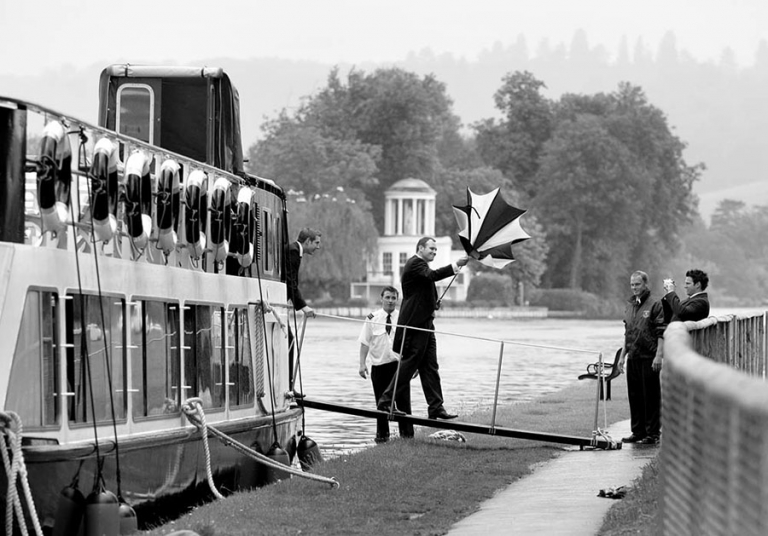 Wet weather wedding photography tips for wedding photographers. 
So you're a wedding photographer with a rainy day wedding? Want some tips for great images? With a little preparation you can create some fantastic photographs.
1) Stay dry and warm. I wear a suit jacket to weddings but if rain is forecast I make sure I have a waterproof jacket, umbrella and some waterproof shoes, if you are wet and cold it is more difficult to do a good job.
2) Use the weather to your advantage, look for dynamic images that show the weather, it might be guests huddling under umbrellas or the couple sat in the wedding car with rain on the windows. See bad weather as an opportunity rather than a problem.
3) Ensure your equipment stays dry. I use a Billingham bag which keeps the rain off my gear. I use a lens hood with the camera to keep rain drops off my front element, I tuck an umbrella inside my jacket (although this doesn't work if it is windy) and try to spend as little time outside as possible. Sometimes you can stand in a church porch and use a long lens to capture people arriving.  Keep a spare camera somewhere dry just in case.