Sayle and Martyn's wedding at Barton Hall Hotel.
I had been looking forward to this wedding since visiting Barton Hall last year for a look around while it was still under construction. Sayle and Martyn's wedding was the first wedding in the function room at Barton Hall and the first exclusive use wedding. The venue opened last year but the final touches to the function room were made literally the day before Sayle and Martyn's wedding.
Barton Hall Hotel is a beautiful new wedding venue just 15 minutes drive away from me, I have a feeling it is going to be very popular with Northamptonshire couples looking for a stunning venue.
I'm a Northamptonshire wedding photographer specialising in documentary (reportage) photography.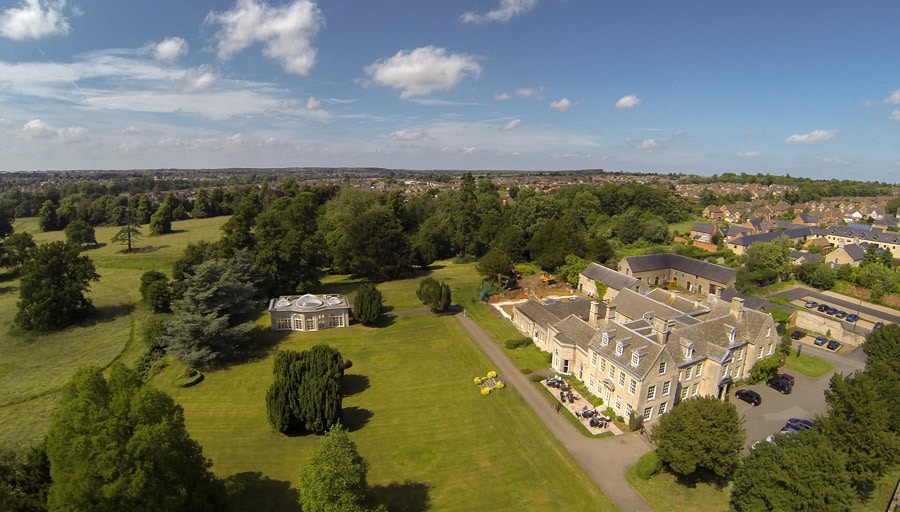 I took this aerial photograph of Barton Hall last year, the function room foundations can be seen at the back of the building.
Sayle and Martyn were incredibly lucky to have talented family members who used their skills for the wedding, Sayle's stunning dress was made by her aunty, the cake was made by Sayle's mum, her dad was one of the bell ringers at the church.
My coverage started at Barton Hall with Sayle having her hair and make up finished before getting into her dress and having her veil put on. I then drove the short distance to St Andrew's Church in Brigstock Northamptonshire. At the church I caught up with Martyn and the ushers. Sayle arrived in a white Land Rover which is one of the slightly more unusual wedding cars I have seen.
After the wedding ceremony there was a lot of hugging as all the guests congratulated Sayle and Martyn outside the church, everyone then walked into the square at Brigstock and guests took a few photographs before a fleet of white Land Rovers took the wedding party back to Barton Hall. Guests enjoyed a drinks reception in The Orangery before being called for dinner.
These are a few of the photographs from Sayle and Martyn's wedding at Barton Hall Hotel, watch out for the unusual cake – it really is stunning!