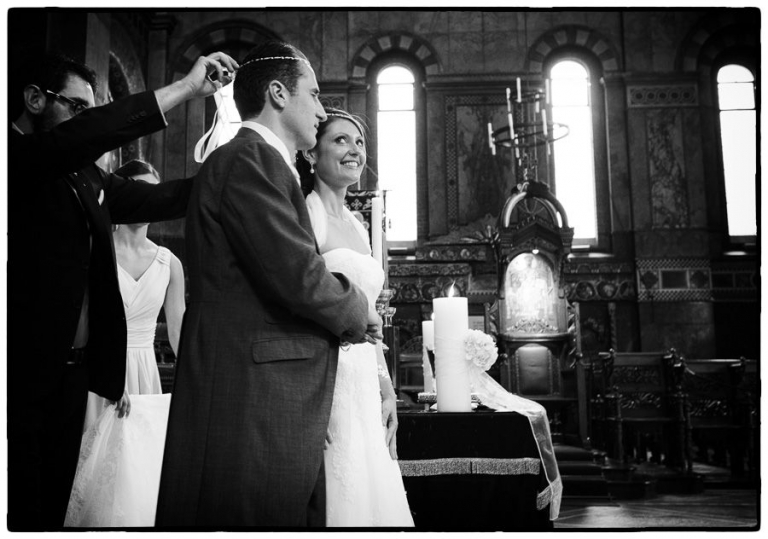 Saint Sophia Cathedral wedding in Bayswater, London. With a reception at Kew Gardens.
I was delighted when Julia & Anthony asked me if I'd photograph their wedding at the beautiful Saint Sophia Greek cathedral in London, especially as the reception was at one of my favourite London locations, Cambridge Cottage at Kew gardens. I'd chatted to both of them on Skype a couple of weeks before the wedding to run though their plans for the day. Julia's family are German and Anthony's are Greek's from Australia.
Saint Sophia is a Greek Orthodox church on Moscow Road in Bayswater, The Greek Orthodox Cathedral of the divine wisdom Aghia Sophia. Consecrated in 1882 for the Greek community that had settled in London.  Built in a Byzantine revival style with a domed roof and decorated with marble, the interior is very impressive, the exterior gives little clue to what you will find behind the doors.
Photography started at the Petersham Hotel in Richmond where Julia got ready in a room overlooking the River Thames. She then left with her father in a beautiful vintage Rolls Royce for the journey across London to Saint Sophia in Bayswater. It was here I caught up with Anthony before the ceremony. Julia arrived in the Rolls Royce and was greeted by the bridesmaids.
The Greek Orthodox ceremony is interesting and has remained unchanged for centuries, the first part consists of the Priest reading and the polyphonic choir responding. The Bride and Groom do not exchange vows, instead it is their presence before Christ that signifies their wish to be joined in marriage. The wedding ceremony has two main parts, the betrothal during which the rings are exchanged and the service of the crowning, during which the couple drink from the common cup and take their first steps as man and wife around the altar.
During the betrothal the rings are blessed and the priest makes the sign of the cross three times over the heads of the bride and groom, the priest then places the rings on the fourth finger of the bride and groom, the rings are then swapped over three times. The rings are the symbol of betrothal from the times of the Old Testament and their exchange symbolises the unbreakable bond of marriage.
During the crowning the priest places the crowns on the heads of the couple and the best man swaps them over three times, a cup of wine is then given from which each drink three times. The couple then circle the altar table three times, this is called the dance of Isaiah.
After the wedding ceremony guests took a Route master bus for the journey to Cambridge Cottage at Kew Gardens for the reception.  Julia and Anthony took some time together away from the guests to walk through Kew, after which they took the Kew Explorer with the guests for a guided tour of the gardens before dinner.
Speeches and the first dance followed dinner.