What is a reportage wedding photographer? 
There are various different phrases referring to my approach to wedding photography, basically they all mean the same thing which I will refer to here as reportage wedding photography, but is often also called documentary wedding photography. What I do is capture wedding photographs without posing them, but it isn't as simple as that as I am looking to tell the story of the wedding in the images.
I'm Simon Atkins, I have been a full time wedding photographer for 17 years now since leaving a successful career in press photography, I was one of the first UK photographers to develop a style of wedding photography that was more relaxed and captured the real moments and memories. Pick up a wedding album from twenty years ago and the chances are it will be full of posed photographs which tell you little about what happened on the day. Posed group photographs do have a place in my photography, but I like to limit them to around 5 or 6 family groups. For the rest of the day I'm in the background observing and capturing the type of story telling reportage images you see in my portfolio.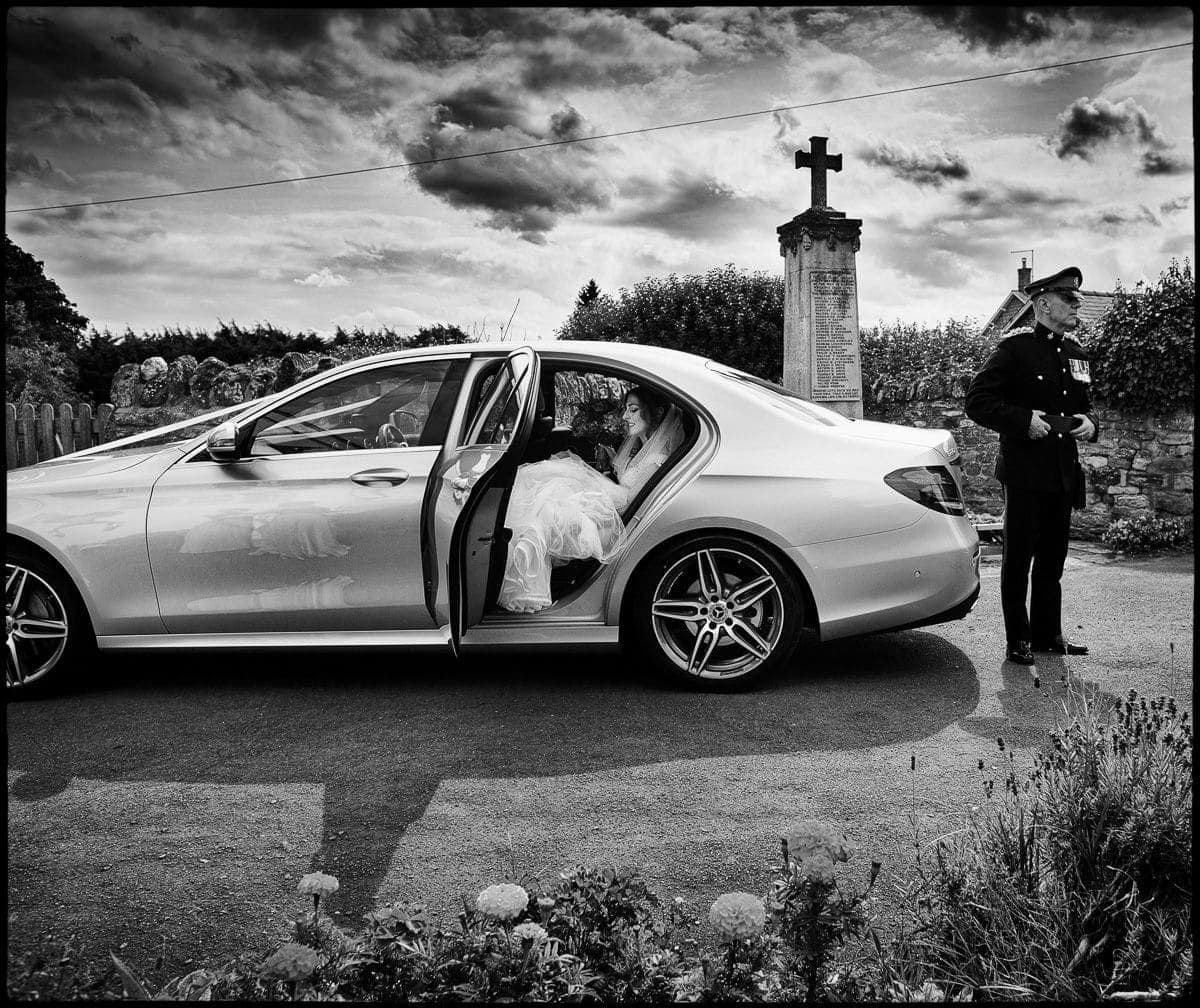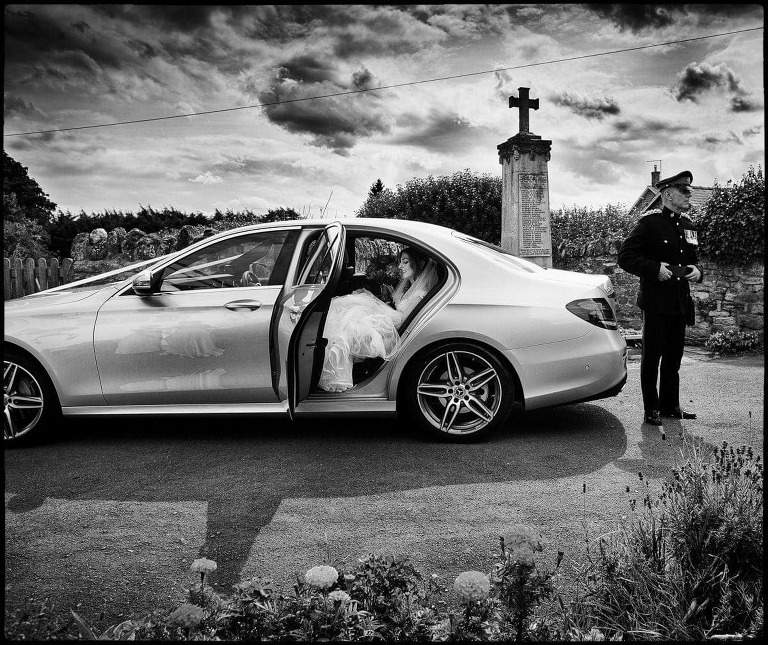 Don't all photographers shoot reportage wedding photography?
Well no actually. As this style of photography has become more popular the phrases that describe it have been over used and often describe photography that is semi posed or what I'd describe as candid.  Candid photography is a series of unposed images, this is different from what I do as I am creating a story with photographs, my images work together as part of the overall story. Most photographers these days include an element of unposed images in their work, but this isn't the same as being a specialist reportage wedding photographer.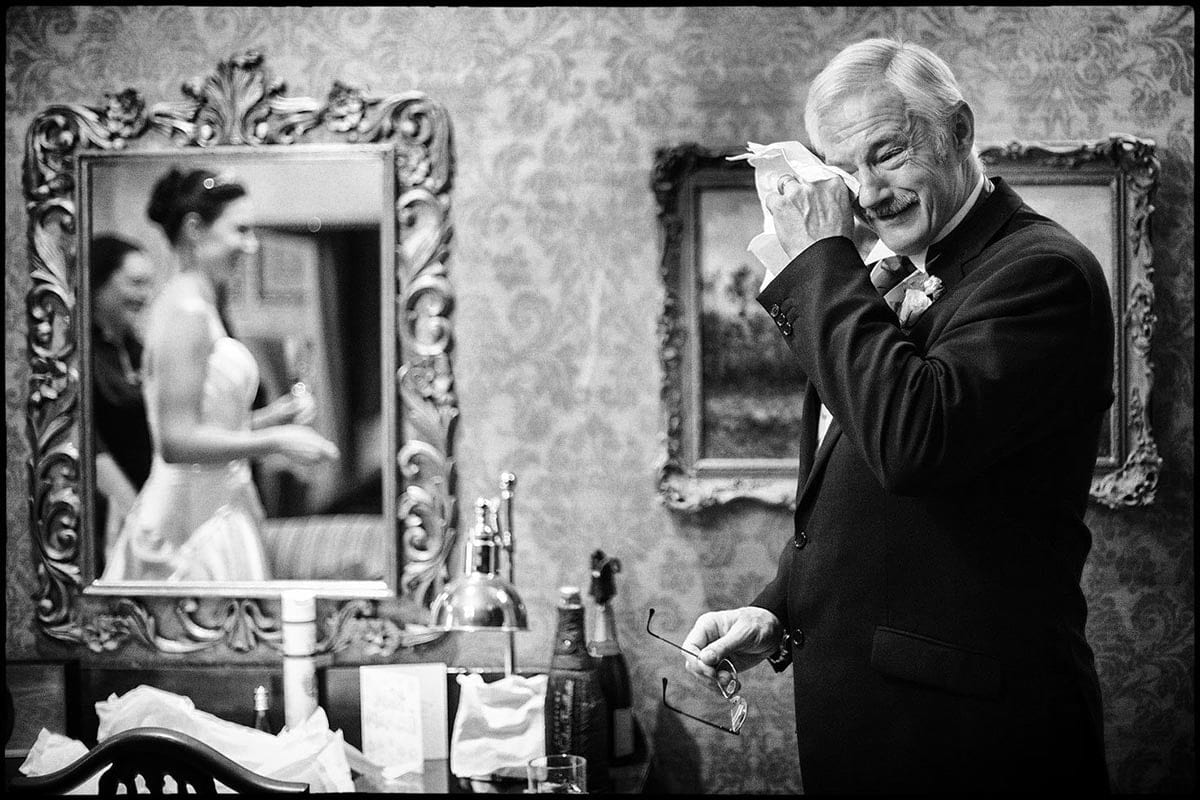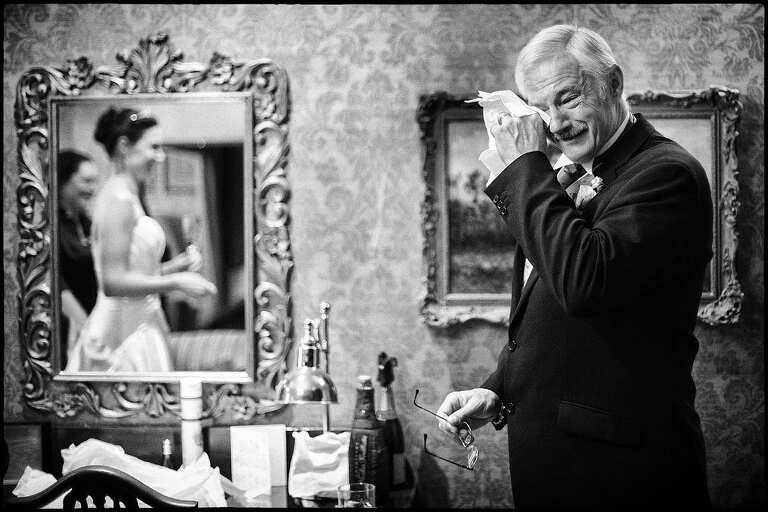 I work best when I'm left to get on with it, to create these sort of reportage photographs I spend a lot of time watching and waiting for the right moment, for me it isn't about rattling off tens of thousands of frames hoping to find something good in editing, instead it is about observing, waiting, listening until I see the right moment to capture when all the elements come together – composition, timing, emotion, light and a tiny bit of magic.
I take story telling images, each photograph in itself tells a story but is also part of the whole story of the wedding day. It isn't really about taking candid wedding photographs although it is true that nothing is set up, instead it is about looking for moments which make up the story of the day. While anyone can take candid images, it takes a different eye to capture artistically pleasing photographs which capture the moment.
"Simon, these are absolutely wonderful, thank you so much. We must have sat and gone through them dozens of times now with friends and family and there were so may 'Oohs' and 'ahh's' and gasps which is a sure sign they are a hit. We are incredibly glad we chose you to be our wedding photographer, and are delighted you were able to capture so many brilliant and raw moments from the day which will help us cement those memories forever " – Ali & Rory, wedding House of Commons 2022.
Photographing a complete wedding in the reportage style is probably one of the most difficult styles for photographers to perfect as you have no control over the day, that is what I love so much about it as I do not arrive with preconceived ideas of what photographs I might take. My background as a press photojournalist perfected my eye for capturing reportage images. I bring with my experience of over 1000 weddings.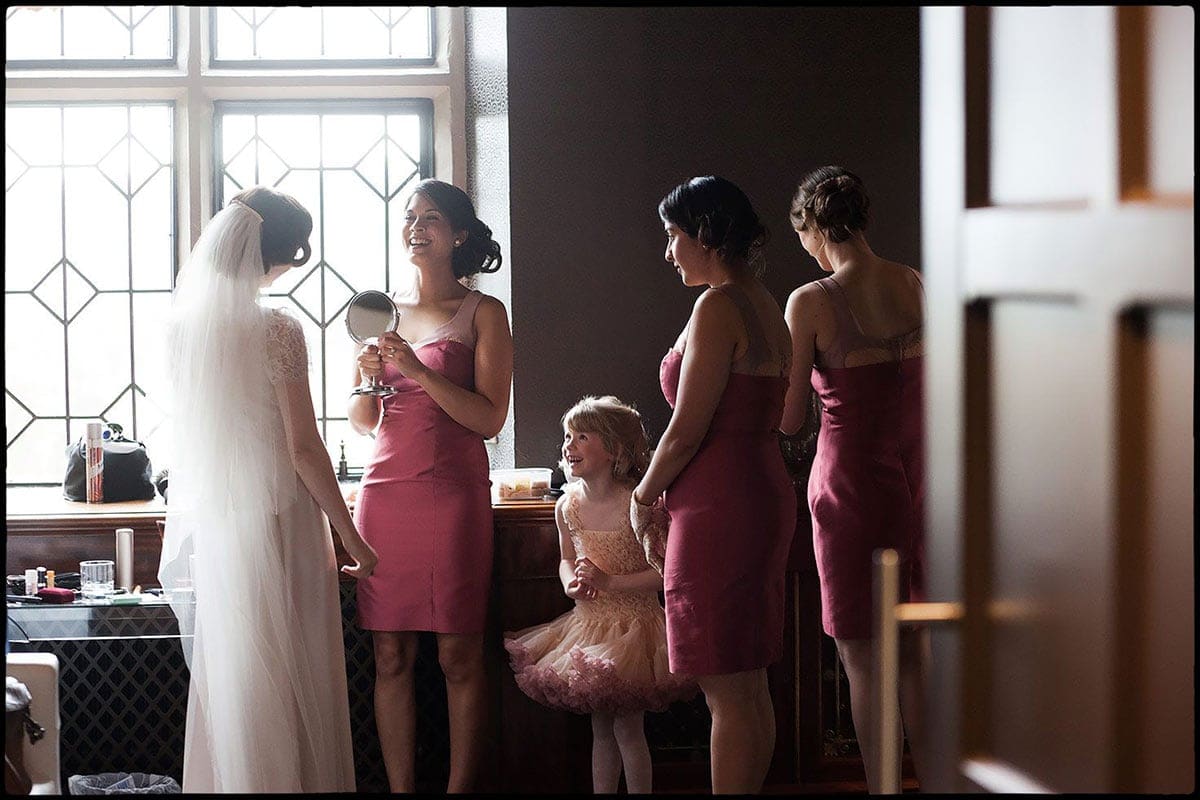 So what about family groups? and maybe some portraits of the couple? 
I always make sure I capture a few family groups as these are an important part of the day and are always cherished by your family. What I recommend is these are kept to around 6 or 7 groups in total, otherwise they start to eat into your time.  I also take some relaxed portraits of the couple as these are the sort of photographs you will want to frame. In total allow about 15 to 20 minutes out of your day for these, everything else I do is unposed reportage wedding photography.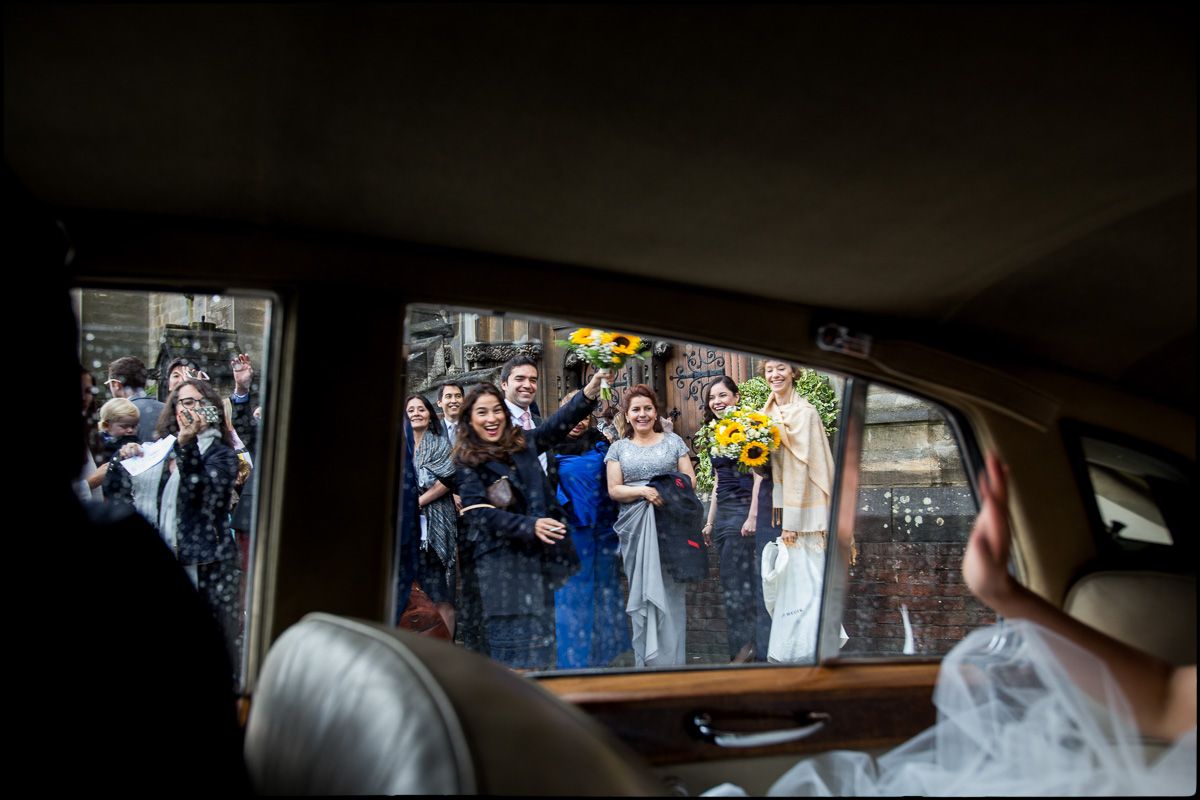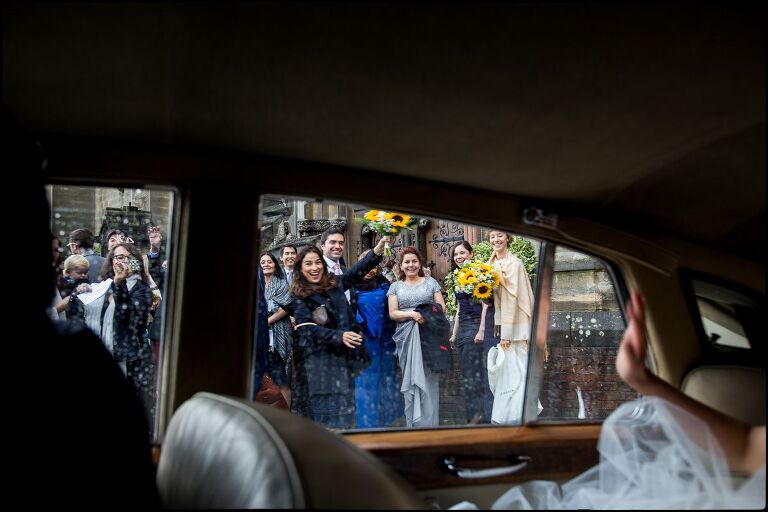 Layering & multiple elements in reportage wedding photography
I like to look for images with lots going on and composed in a style called layering, this results in images with multiple layers of people giving dimension to the photograph and telling multiple stories in a single frame. It is more difficult to capture these sort of images as you need to do a lot of people watching until all the elements fall in place. In the example below the groom is in the centre of the image framed by the arch as wedding guests sit in groups talking during the drinks reception.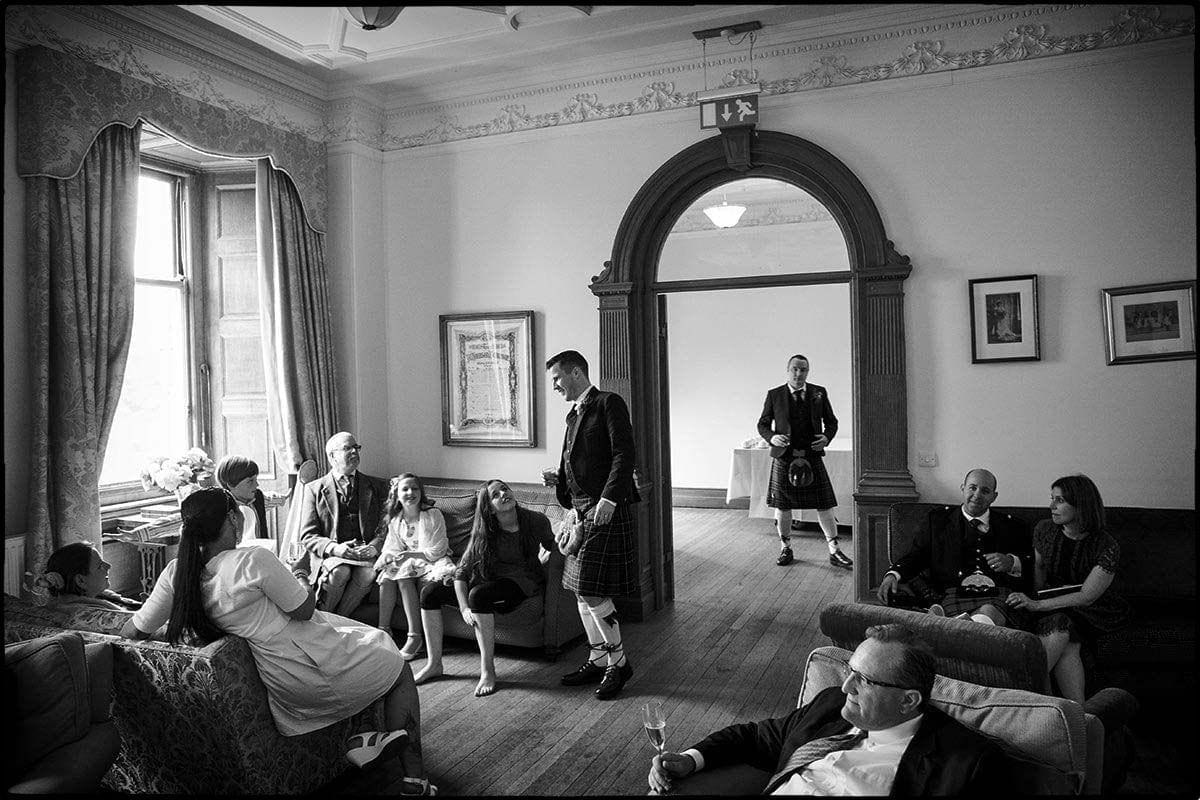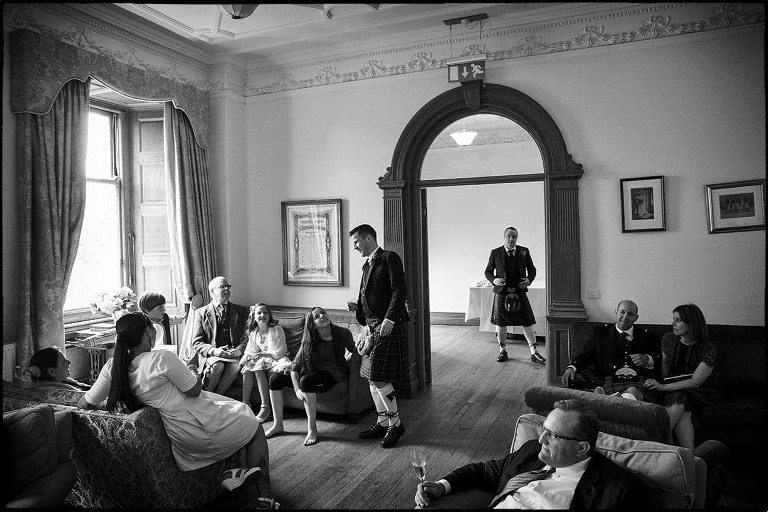 Why book me as your reportage photographer for your wedding? 
Experience, I've now photographed over 1,000 weddings in all weather and seasons. I'm one of the most experienced reportage wedding photographers in the UK. Experience counts for a lot as it means the photographer can handle any situation thrown at them and will get the results every time and even if things go wrong.
Strong storytelling, reportage photography isn't about just capturing what you see in a candid way, I think about each image and look for story telling elements. Each photograph should sit as part of the overall story of the wedding rather than being a disjointed set of candid photographs.
A proven track record, I was one of the early pioneers of reportage wedding photography well before it became popular. Previous to weddings I worked as a newspaper photojournalist and transferred my skills across to weddings. I have many hundreds of thank you messages from previous wedding couples and a large percentage of my bookings come from recommendations not just from previous weddings but also from other wedding photographers. I have also photographed a number of wedding photographers weddings!  Previous clients have included actors, household name comedians and TV presenters.
I absolutely love weddings! Weddings are a great environment to capture photojournalistic photography, there is so much going on and as well as the main events of the day lot of things happen that the bride and groom don't always see. Wedding photography also offers a lot of creative freedom. Finally let's face it, who doesn't love going to amazing venues every week and travelling all over the country.
I absolutely love photography! I've worked in photography all my adult life and it is a big part of who I am. As well as weddings, documentary family photography and my press and PR work I also love street photography which allows me to experiment and transfer that over to wedding photography.
Tell me your wedding plans!
I'd love to hear from you so please complete the form below with some details about your wedding, I'll email you back with my availability and prices.