Documentary wedding photography explained:
When you are looking for a wedding photographer it is important you find one who works in a style that fits well with what you would like. My style of photography is best described as documentary wedding photography, other than for a handful of family photographs and some relaxed portraits of the couple I do not set any of the photographs up or interfere with the day. Instead I use my extensive experience in photojournalism and sixteen years wedding experience to capture real moments from your wedding day that you will want to treasure. Where I differ from almost all other wedding photographers is in my pure documentary approach. The phrases wedding photojournalism, photojournalistic, documentary style wedding photography or reportage all mean the same thing.
Documentary  noun  dɒkjʊˈmɛnt(ə)ri   Using pictures or interviews with people involved in real events to provide a factual report on a particular subject.
I capture a wedding in a totally unposed and story telling style that I call DWP (Documentary wedding photography), my photographs are real moments with real emotions, nothing is fake, nothing is set up, there are no cheesy shots of wedding guests being chased by a dinosaur. It is a style that won't date or go out of fashion
I photographed my first weddings in the late 1980's as an assistant when I first became interested in a career in professional photography. Back then the photography was very staged and every photograph was created by the photographer. We worked to a list of very similar photographs at each wedding, things like a fake signing the register photograph and  a fake cutting of the  cake. During the wedding ceremony we would often sit outside, I was informed the ceremony didn't make good photographs!  I have to admit I was put off wedding photography and settled down to a career as a newspaper photographer after completing the NCTJ in photojournalism.  I spent the next 12 years working for various newspapers and magazines, starting at a local newspaper (The Peterborough Evening Telegraph) and ending up working freelance for a press agency which saw my work regularly appear in The Telegraph and The Times. The work varied enormously from spending a day with Tony Blair on his election battle bus to more mundane work like a head shot for the financial page.  I also photographed the occasional wedding for newspapers, this would typically be a celebrity. Eventually I came full circle and in 2000 I left newspaper photography behind to start my business as a documentary wedding photographer. At the time most wedding photographs still worked to a shot list and set everything up. Today documentary style wedding photography is very popular.
The way I photograph the wedding is as important to me as the end results, because if I interfere with a scene your memory is of the photographer setting up that photograph rather than the real emotions and memories behind it.  My photographs are often full of emotion and capture the relationships between people. My photography is about real moments will bring your memories flooding back.
There is a story behind every photograph I take, in the image above the brides father had just come to visit the bride in her room and it was the first time he had seen her in the dress. A photograph of just dad in his own wouldn't have the same context so I positioned myself to catch the brides reflection in the mirror. The position of the mirror and the frame behind the brides father add to the composition of the image. All of this happened in a split second so often I don't have a lot of time to think about the composition, this is something that just happens naturally for me.
I often work with small cameras that allow me to get into the heart of the action without people becoming camera aware, in situations like the photograph above the bride is deep in thought as she travels to the ceremony in Venice by boat. I do not want my presence to interfere with the photograph as I want to capture the real moment rather than something I created.  The resulting photograph will bring memories flooding back of her emotions from that time. Many people do not want a wedding photographer to take over their day, but would rather have the day captured in a natural way and this is what documentary wedding photography is about.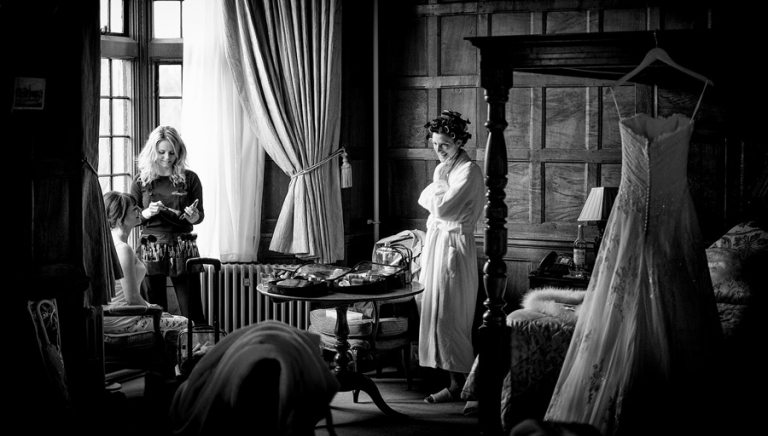 I always smile when at the end of the day saying goodbye to the bride and groom they mention how they hardly noticed me. At a wedding I like to become part of the wedding rather than a stranger looking in, I work in a very quiet way preferring to blend in with the guests as I capture the day as it unfolds. My photographs work together showing the story of your wedding day.
If you have a preference for more black and white or colour photography please let me know, otherwise I tend to work in about 60% to 70% colour. I love black and white photography but weddings are colourful events. Documentary wedding photography works equally well in both colour and black and white.
Whether you choose me as your photographer or not there is only one chance to get your wedding photographs right so it is vitally important you put a lot of research into your wedding photographer, do not choose a photographer based on just a few photographs. My best advice is to look through several weddings of at least 50 photographs each wedding and ask yourself if this photographer has told you the story of the day, do the photographs trigger an emotional response? Do you feel like you attended the wedding as a guest?  Most importantly did the photographs make you smile?  Although everybody works to a budget this should not be the sole deciding factor in choosing a photographer as in ten years time the money spent will seem irrelevant. I show many hundreds of weddings in my blog so please take time to look through these starting under "recent posts" at the top of this page and you can view many more in the monthly archives at the bottom of this page, if you are looking for a particular venue use the search box. Only by viewing several weddings will you get a real feel for the style and quality of my work. The next step is to get in contact with me to see if I am still available for your wedding date, I can then also send you some more information about my prices and answer any questions you might have. You are also very welcome to make an appointment to come and view my wedding albums over a cappuccino, latte or espresso at my office in Higham Ferrers, Northamptonshire.
In summary as a documentary wedding photographer I will photograph your wedding and present you with a beautiful set of images that will tell the story and show the emotion allowing your memories to come flooding back. I will give you the very best customer service before, during and after your wedding, the fact that 70 percent of my wedding bookings come from recommendations from previous couples is testament to this.